Growing up in the South we always welcomed the New Year with black eyed peas & collard greens with a side of cornbread. I was always told it was the first dinner we ate of the year to bring us health, wealth & lots of luck.
As an adult, I've continued this tradition (much to my husband's dismay) & decided to dig a bit deeper on why we eat these things on New Years & what else we should be adding to the table!
Black Eyed Peas
The shape is said to look like a coin, representing wealth… especially when combined with collard greens!
Collard Greens
Or any greens, really. They're the color of money!
To get your black eyed peas & collard greens in one dish, whip up a batch of Hoppin' John, a traditional Southern stew.
Cornbread
It's the color of gold! And when cooked in a round cast iron skillet, it resembles a gold coin bringing you wealth in the new year.
Pork
Pigs are known to push forward when they eat, and we want to move forward, not backward, in the new year. (On that note, stay away from lobster, which moves in a backward direction & chicken, who might fly away with all your good luck.)
Get your fill of everything you'll need in this Festive Good Luck Cornbread Skillet recipe to welcome in 2022!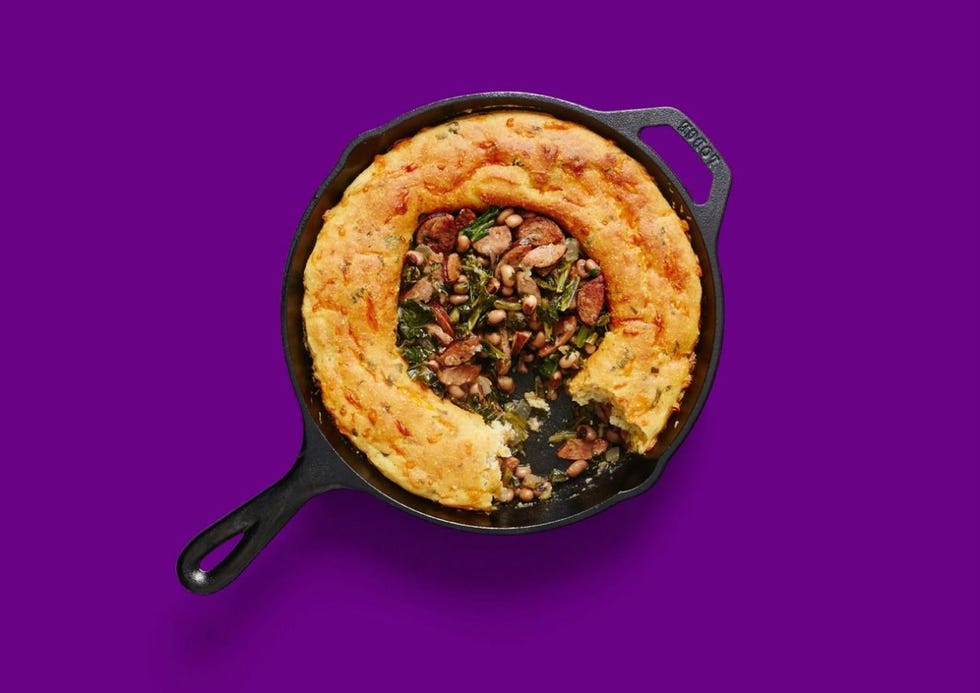 Last, but not least, Ring-Shaped Cakes which represent the full circle of life.
This year, we'll be testing out this Cannoli Bundt Cake recipe!
Happy New Year!
Need inspiration? Try our FREE meal planning tool!